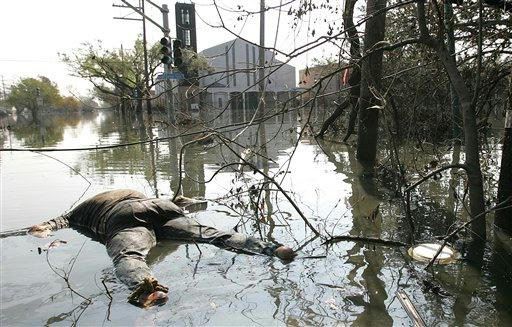 Photographer: Charlie Riedel/AP
When I was reading Douglas Brinkley's The Great Deluge last night, I decided to check out the photo section in the back. While I felt numb when I read about people tying bodies to trees in Anderson Cooper's book, when I saw this photo and realized that something like this happened with my neighborhood church and elementary school, St. Raphael the Archangel on Elysian Fields Avenue, in the background, I freaked out. It all came back…walking the 3 blocks between my house and that school with my friend Adrianna, attending midnight masses at Christmas, singing in the choir during our weekly school masses on Thursdays, and all of my teachers. As much as I try to think about the future and try to feel optimistic about the New Orleans spirit, here I am traumatized all over again. I am reminded that "it" happened…the storm we all knew would come one day but brushed it off saying, "Those hurricanes always turn and head to Alabama or Florida or Texas. I'm not going to evacuate this time." Death was everywhere, water was everywhere, and we're a long way from feeling normal again.
To be able to apply theory to what I feel when moments like this happen, I'm also pushing myself through the book Trauma: A Genealogy, but it's been difficult. So far, the first chapter on Freud summarizes his work and what is often not grasped in his work, namely that "anxiety is both cure and cause of psychic trauma" (28); however, once all the psychoanalytic talk of ego, libido, mimetic and antimimetic identification comes in, I'm lost. I think too that my frustration stems from many of the examples in this chapter referring to traumatized soldiers of war and not victims of natural/man-made disasters. I can see how "The response of the traumatized solider thus at one and the same time represents the achievement of defense and the failure of defense, the success of protection and the breaching of the protective shield…" (35), but how can that detachment and impressionability apply to victims of Katrina where there was nothing but failure?
Typically, if I am reading a difficult text and cannot see a way of applying the work to my topic of interest, then I skim or close the book. With my comprehensive exams coming up, though, I'm plugging along through this one until something makes sense or becomes applicable!